The Bay of Bengal just wouldn't be the same without a former pretty fishing village. Comparatively calm (what!?), equipped with a proper grid system, clean (ok in places), sprinkled with cathedrals, a nicely manicured park, croissants are readily available here. Welcome to a slice of French heritage called Pondicherry. Not exactly a provencal village but for a refreshing moment a weary traveller can experience a trickle of a great colonial past.
Invaded for centuries when it became a major port - and by all those usual suspects: Greeks, Romans, Pallavas, Cholas, Sultans, the Dutch, Brits, Ports and Danes, Pondi was under French control for nearly 300 years and is dubbed the 'White City.' Yet another palette in this colourful country.
It is also a bit of a spiritual mecca with ashrams magnetising people in search of enlightenment. The most famous of these was set up by former freedom fighter, Sri Aurobindo. A poet, philosopher and yogi, he set up his ashram to help 'transform consciousness'. Whilst it is a still and beautiful place, it wasn't for me (fear not mum and dad - I'm not running off to mystical bliss). On the menu were NO yoga lessons (at least for the likes of me), a glib reference to the inmates (aka the live-ins) and a list of regulations and 'shoulds.' In the meditation garden I contemplated why authority isn't my bag and then my attention skipped over to the playful chipmunks.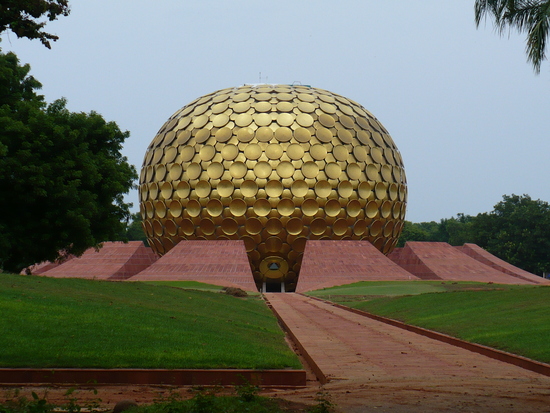 It doesn't stop there though as Sri also joined forces with a French dame - called the mother - who went on to establish Auroville in 1968. Her vision was to create a 'universal town' where 'everyone can live in peace and realise human unity', it seems to operate like a kind of kibbutz and has settlers from all over the world. It did't feel very inclusive or unifying to me as we weren't allowed in the gold domed Matriminder (massive meditation hall with the world's biggest man-made crystal ball). There is always a silver lining as I managed to get some organic tahini here after weeks of deprivation so happily munched and contemplated an even tastier croissant instead.